August 19, 2021

Subhankar Pandit

1
Search Engine Optimization (SEO) can seem daunting.
And for good reason. Because search engine optimization is often very complex and given its ever-changing nature, it is difficult to keep up with newly discovered best practices. Between Google algorithm updates and changes in search engine behavior and marketing technology, there are many moving parts that shape your SEO strategy.
However, even beginners can follow simple SEO tips and tricks to improve their page rank on search engine result pages (SERPs).
From improving the components of their web pages to signing up for powerful SEO analytics platforms, beginners can easily use the same techniques and tools as SEO experts.
Why you need an SEO strategy
An SEO strategy allows you to plan, outline, and implement steps that will help you improve your search rankings.
You need an SEO strategy that helps you maintain organic search traffic and engagement. Remember that this is an ongoing process and an integral part of business success.
Here are a few more benefits of an SEO strategy:
Consistent SEO improves your website's user experience.
It helps build brand awareness.
This helps to increase traffic to your site because organic search is the largest source of traffic.
This can help you stay on top of Google updates on their search algorithm.
It helps you build trust and credibility as a brand.
If you're unfamiliar with general SEO tips and tricks, take a close look at the next section to drive more traffic to your site.
30 SEO Tips and Tricks to Increase Organic Traffic
Increasing your search engine rankings is an important goal for any business. It showcases your brand as an authority in your industry and delivers quality organic traffic to your site.
Get started with these 30 simple SEO tips and start attracting the right people to your business.
1. Researching relevant keywords.
Keyword research is essential to understanding your site's SEO as well as your competitors' site. Luckily, however, you don't need to be an SEO guru to know which keywords to use.
Your best resource is keyword research tools.
Free and paid tools
There are so many free SEO tools out there, as well as a few paid ones, to guide you through every step of finding the keywords you want to target. Most SEO tools offer free and paid versions.
The free option usually has limitations, for example, only a certain number of keyword searches per day, while the paid tiers include more features for each tool.
SEMrush is one of the best keyword research tools out there. It shows important statistics to consider when compiling your target keyword list, such as monthly search volume and CPC for each keyword. You can also browse a list of related keywords for the phrases you are looking for to get ideas on content.
Process 1-2-3
During the keyword research phase, it's easy to get lost among the weeds. You want to keep your keyword research approach as simple as possible. Your process should be in three easy steps.
1. Research of the personality of the buyer
The best way to do keyword research is to start with a personalized shopper image. Think about what queries they enter into search engines.
List their main pain points and goals, and then research the keywords and phrases that apply to them. These words and phrases are on your keyword list.
2. List of keywords
Just list as many keywords and search terms that you can imagine your buyers are using, then add important research information so you can prioritize your keywords
You can create content ideas based on keywords that match the interests of your ideal buyer and keywords that have a good balance of search volume and difficulty to rank.
Moz Keyword Explorer is another great keyword research tool. They use a unique difficulty rating system (0 to 100) to show you how difficult it is for you to beat your competition on the first page.
The Priority Score, which also goes from 0 to 100, combines other metrics (like organic click through rate) to indicate how high priority a keyword should be in your strategy. The higher your priority ranking, the closer you are to optimal search volume, organic CTR, and low difficulty.
3. Content strategy
Finally, you can brainstorm detailed ideas for blog articles, white papers, webinars, and any other content that can engage and engage your target audience.
For every piece of content you post, keep your target keyword in mind. This way, you can optimize this content for a keyword, which will increase your chances of ranking for that query.
2. Keep track of your competitors
Wispy SEO professionals understand the importance of keeping up with the competition. But that takes more than just reading their blogs and following them on social media
Investing in the right competitive analysis tools is the best first step you can take. For example, if you are using SEMrush, the Domain vs. Domain feature makes it easy to compare your domain to other domains.
Just select the type of keyword you want to research, like regular keywords, and you'll see side-by-side comparisons of these sites for keywords, SERPs, and more.
Knowing how you deal with the competition can help you manage your inbound marketing and content strategy to stay ahead of other brands. It helps you prioritize specific keywords that you want to gain a foothold in
3. Follow the SEO checklist on the page.
Optimizing certain parts of your web page, known as on-page search engine optimization, is the key to improving your page's rankings. Focus on improving on-page SEO for page elements including:
Page title
Meta description
Header tags (H1, H2, H3, etc.)
Url
Make sure you use your chosen keywords in the aforementioned aspects of your top ranked pages to signal to search engines that your content matches those keyword searches.
One way to avoid the guesswork of on-page optimization is to use tools like BrightEdge. This tool provides guidelines for adding keywords to the most important elements of the page
You can also customize it to alert you if keywords are missing from page titles and meta descriptions, and even get suggestions for which keywords to use.
However, despite all the on-page optimization, the most important element that every SEO professional should focus on is the provision of valuable informative content.
4. Create awesome content
To fully understand the impact of the quality of your content on your search engine optimization efforts, let's go back in time when Google first launched in 1998. Co-founders Larry Page and Sergey Brin began with a simple mission that remains the mission statement of the company today, more than two decades later.
Any content creator and digital content seller should have the final say. Essentially, this is a prerequisite for your content to rank high – it must be useful and relevant to the search engine.
This is why buyer personality research and keyword research should guide your content strategy. When you fully understand who your audience is and what content they need, you are well equipped to generate ideas and create targeted, insightful, educational content.
Here are some guidelines to consider when creating content:
Give more meaning to the topic concerned and bring your own unique perspective to it.
Build for the search engine, not the search engines.
Include colors and visuals for a fun (but not overly distracting) user experience.
Show your credibility by including original research and citing other research sources, and include a bio to show readers why you are an expert.
If your blog posts and videos are great, then your audience will notice it, just like other people in your industry. This will help you with your inbound link building strategy.
5. Create external backlinks.
When it comes to link building, your inbound links are an important factor in whether your pages will rank on the first page of Google or hidden behind your competitors in search results.
Naturally, the pages that are most often linked to by external sites are likely to be viewed by search engines as the most relevant and important.
To determine the popularity of your pages by the number of inbound links, sign up with tools like Ahrefs, which gives you results for domains based on the number of links back to your site and whether the sites that link to you are authoritative
it is not enough to get as many links to your site as possible. Your site should also receive links to sites that are respected and have high authority in their field or niche.
If spammy, sketchy sites link to your content, you will not see any improvement in link weight, that is, link weight. This term refers to the general meaning conveyed through hyperlinks. Search engines view links as a sign of trust, and you want the best of the best to demonstrate their faith in you as a trusted source.
When it comes to getting backlinks, you don't want to just sit back and wait for others to notice you. Be proactive with social media and reaching out to influencers.
6. Take advantage of social media.
You don't have to manually publish every article you create. This is where social media management tools come in handy.
Automation makes life easier for SEOs. When it comes to social media, they often schedule posts ahead of time to stay in the sight of their followers and keep up with interest.
There are so many great tools you can use to customize social media calendars and keep track of your published and unpublished posts.
Another quick and easy tip is to add share buttons to your blog articles so that your readers can quickly share your content with their subscribers. One of the best ways to encourage your readers to share is by creating custom images that you can share.
In fact, image posts are the most commonly shared. For example, according to research by Buffer, tweets with images have an 18% higher click-through rate than posts without images.
With the right images, you make your inbound marketing content shareable, which can increase your followers and inbound links to your site.
But you don't have to be a graphic designer for your followers to share your content. Use programs like Photoshop, Canva, or other graphic design software to create images such as banners, social media images, and infographics.
7. Communication with influential persons.
Companies large and small can engage in one of the most common forms of inbound marketing: influencer marketing. Using influencers who have already earned the trust or respect of thousands or millions of subscribers to promote products and services can be effective for companies looking to expand their reach.
However, your marketing budget or other forms of compensation you can provide will likely affect the number or popularity of influencers who are promoting your products or services.
Some social media stars like Instagram get paid thousands to post. But if you don't have a budget for these Instagram influencers, you can still grab the attention of other well-known social media accounts by offering free products or services in exchange for their reviews or sponsored posts.
8. Add internal backlinks.
Linking isn't just for external resources. You also need to post the link on your own website. For example, link to other blog articles you've created to give the reader more resources to explore other relevant topics.
The best way to improve your SEO performance with internal links is to use a topic cluster model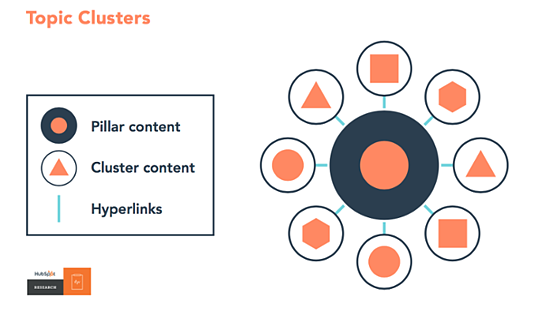 As you can see, this model has three main elements:
Column content – These are called column pages. They provide an exhaustive coverage of the general theme.
Clustered content are content centers of subtopics that fall under the general topic discussed on the column page.
Hyperlinks – They connect the contents of the cluster to the contents of the column. It directs readers to other content related to the topic they're reading about (which you show readers using the correct anchor text) and tells search engines that the main page and the cluster's content have a semantic relationship.
The HubSpot Content Strategy Tool helps you visualize your internal link building strategy. Plus, it gives you topic suggestions based on relevance, popularity, and competition, so you never run out of cluster content and master page ideas.
9. Measure SEO performance.
Whether your inbound marketing strategy is focused on in-page SEO or social media marketing, an SEO analytic platform is essential to track your strategy's performance and results.
A free yet comprehensive SEO analytics platform that even beginners can use is Google Analytics.
This tool breaks down features into categories like behavior and engagement to understand where your traffic is coming from, the amount of traffic you get, and which of your pages are the most popular.
For example, in the Purchase section, you can view the number of visits from common sources such as search engine result pages, social media, or other sources.
By exploring the full power of SEO analytics platforms, you can track key traffic trends. Plus, you can identify which pages are driving the most traffic so you can refine your inbound marketing strategy and focus on your pages that generate the most revenue and drive traffic.
These platforms support your team with SEO analysis, which you should do on a regular basis. SEO analysis reports help you make strategic decisions that target specific aspects of your site to help you rank higher and get more organic traffic.
10. Make the most of your content.
You put a lot of work and time into creating content. Why not get the most out of every subject?
here are some easy ways to repurpose existing pieces of content. This assumes that you take the published snippet and modify it to serve a different purpose.
For example, your list of articles about shocking statistics from your industry can be turned into engaging infographics. And you can even distribute graphics for every stat listed on social media to expand your reach and get backlinks to your site.
Another great way to get the most out of your content for SEO is through historical blog article optimization. To do this, you need to find the best-performing articles, update content to make visible improvements (for example, add new tips or relevant research), and unpublish and republish articles.
Ultimately, the main goal of history optimization is to provide the most accurate and complete information about your existing articles. Your audience will notice your commitment to maintaining high quality.
11. Keep learning SEO.
One of the most important SEO tips to ensure consistent results for your business: Focus on your SEO education.
The best way to improve your SEO and achieve real results is to stay on top of the latest trends and changes. The more you read and learn about SEO, the better prepared you will be to achieve and maintain sustainable results.
Subscribe to blogs, participate in online groups and communities, and join professional organizations. For a more systematic and organized approach to learning SEO, sign up for an online course. Some of the more well-known SEO courses include:
Coursera SEO Specialization
Moz's Guide to Search Engine Optimization for Newbies
HubSpot Academy Certificates & Courses
Bottom line: devote your time to perfecting SEO in practice and learn as much as you can from trusted SEO experts.
12. Combine messages.
Over time, a large amount of content can appear on your site with a lot of similar content. And many of these blog posts may experience stagnation or declines in traffic.
To organize your blog content, you can combine existing posts that have a lot of overlap and boost your traffic to a single URL.
Follow these basic steps:
Perform a content audit to find older content that is not working.
Look at related posts and find one URL with the most traffic. This is where you will redirect your readers when you finish the next step.
Synthesize content from old, ineffective posts and add it to the most effective posts. For example, you can compress some blog posts and add them as new sections with new headings optimized for related keywords.
Set up URL redirects from old posts to the best performing URL (which should have consolidated content), then unpublish and archive the ineffective URLs.
The end product should be a completely revamped blog post that is longer and more comprehensive on the topic. Ideally, this updated content will start ranking for more semantically related keywords, which will increase the ranking potential.
13. Test different hosting providers.
Your hosting provider ultimately determines what kind of website experience you can offer your visitors. Make sure you choose an SEO-optimized web hosting company.
You can try several free trial web hosts to see which one is best for user experience and SEO, including load times, ease of navigation, and good server location.
Start by looking for reviews and testimonials from web hosts and make sure their server locations and speeds are good so that search engines don't look suspicious. For example, if your server is on the other side of the world, search engines might think that something fishy is happening to your site.
14. Invest in SEO tools.
We've mentioned some great SEO analytics tools to get you started. But as you move forward and begin to gain a deeper understanding of how SEO works, we suggest that you invest more in SEO tools. Many introductory SEO tools are completely free and can be updated for a deeper understanding.
The more information you have about search traffic, bounce rates, and marketing campaigns, the better.
Here are some great updates to consider:
Moz Pro
Ahrefs
Majestic
SEMrush
Paid SEO tools can provide you with in-depth analysis of your website's page speed, domain authority, ranking and keyword research, and visitor behavior.
15. Place a call to action in your meta description.
Good calls to action give you a ranking advantage in the SERPs because you are likely to get more click-throughs. This means you have a better chance of converting visitors.
While search engines don't use meta descriptions as a ranking factor, they do take CTR (click through rate) into account. If you include a call to action in your meta description, people will be more likely to click on your content link to see what it is about
The CTA you choose should be a valuable proposition for your visitor. They need to know what this means to them. For example, some meta descriptions might include information about a free trial or an offer
3 examples of SEO tricks in action
Now that you know what you need to do to keep improving your SEO results, it may take some inspiration to get started. Here are three real-world SEO examples that drive more traffic.
1. Consolidation of blog posts increases views by 758 percent.
The Bluleadz team is always testing and experimenting with the same knowledge we teach our readers. We enjoy testing these best practices.
On the Bluleadz blog, our content team is consolidating blog posts across a range of topics. For example, we had a lot of posts about lead generation, some of which were slowing traffic growth.
This is what inspired us to merge, unpublish, and redirect three underperforming sites into one better performing URL.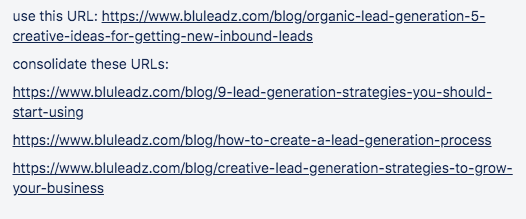 A new blog post titled "15 Lead Acquisition Strategies That Will Fill Your Sales Pipeline" was recently reissued with the goal of starting rankings for more related keywords to increase organic traffic.
In just one week, it already received 758 percent more views than in the entire month earlier.
2. Thematic clustering constantly brings steady traffic.
Using the SEO tool HubSpot, Bluleadz's content team has created several master pages as inbound tutorials. These master pages cover the parent topic and also link to related cluster content in the form of blog posts.
The main goal was to drive qualified traffic to the site while increasing the link weight on our blog. In the HubSpot tool, you can see the structure of your clusters.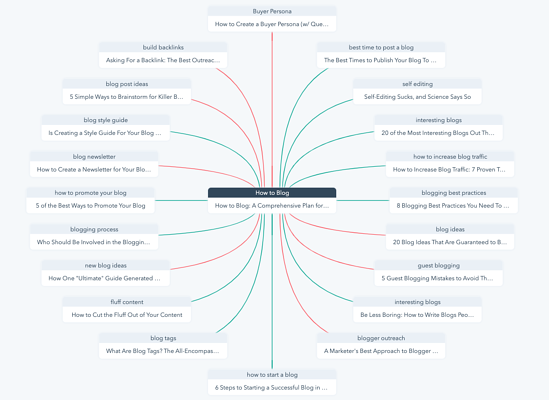 The content team created nine thematic clusters based on the keywords our main buyers were looking for. The result of these main pages has been a steady stream of views over the past 12 months.
3. Strategic internal connections increase rankings.
SEO gains can take a long time, but there are also some tactics you can use to boost your productivity quickly. These quick wins require little effort and lead to big improvements.
For example, our content team implemented internal linking strategies in a few simple steps.
We've identified blog posts that rank on the second page of Google for specific keywords. These messages came close to moving to the first page. They were in positions 11 through 14.
To earn more link capital and direct our readers to more useful content through strategic internal links, we used a Google search using the site: bluleadz.com "keyword" format . These searches showed us posts where we could add links to blog posts in positions 11 through 14.
After adding links to 20+ posts, our team waited and then started measuring performance. Most of the posts with recently acquired internal links have been placed on the first page of SERPs.

For example, an article ranked 14th moved up to 10th, and an article ranked 11th moved up to 6th. These SERP spikes bring in more organic traffic on the first page as opposed to when these posts were ranking on the second page.
There is no quick fix to the SEO problem. It takes hard work and time. But if you apply these tips, the wait is worth the wait.
Use these 15 simple SEO tips and tricks to drive more qualified traffic to your site. These small wins pay off over time, ultimately affecting how many leads you generate and how much income you can earn.
It all starts with SEO With Wispy Consulting Pvt Ltd professional search Engine Optimization Services in kolkata